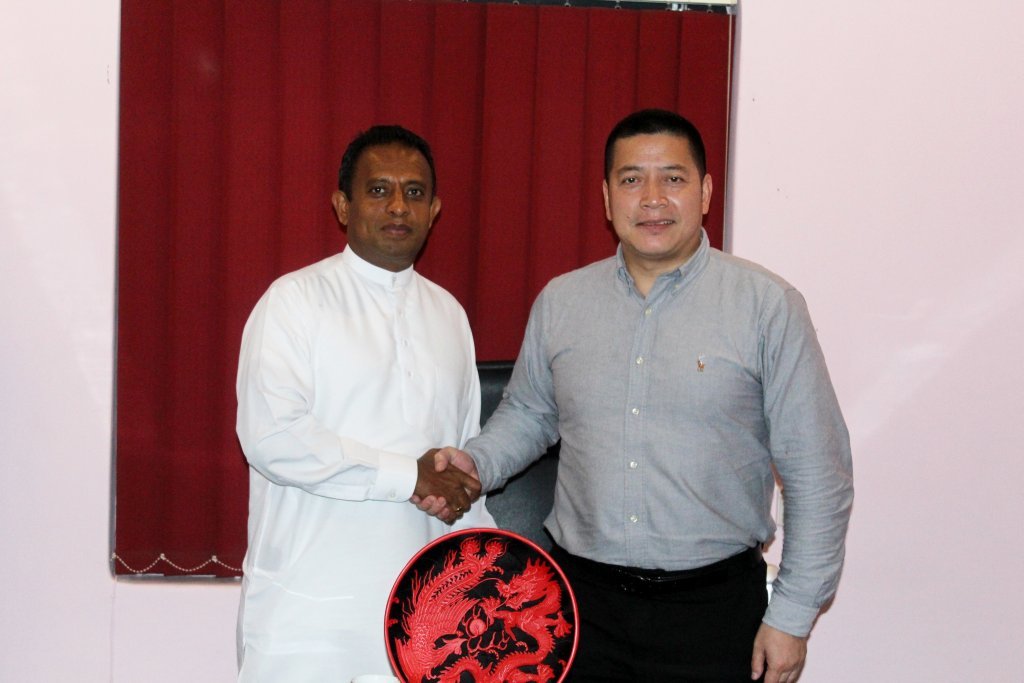 On March 5, 2018, Mr. Pan Liang, the Chairman of Hairong Group, accompanied by his entourage, met Mr. Chandima Weerakkody, the minister of Skills Development & Vocational Training of Sri Lanka. The minister first listened to Mr. Pan Liang's introduction of Hairong Investments International (Pvt.) Ltd. (a subsidiary company of Hairong Gourp in Sri Lanka), Being aware of the extensive investment fields and its abundant capital backing of Hairong Group possesses, the minister expressed a great interest in cooperation with Hairong Group, expecting to cooperate in a wide range of Skills Development & Vocational Training projects. Such as establishing hotel management schools, training programs for construction workers and etc.
During the talks, the minister proposed to establish an English training institution for Chinese in Sri Lanka. In view of this proposal, Mr. Pan Liang expressed his perspectives, explained to the minister the current situation and highly mature market of English training industry in China, and gave revised opinions to the proposal: With the rapidly developing tourism industry in Sri Lanka and more and more Chinese investments flowing into Sri Lanka, establishing Chinese language training institutions for Sri Lankans, Indians working in Sri Lanka, and the other expatriates from other Southeast Asian countries will be more adaptable to the needs of the market, not only increase the employability and income level of Sri Lankans, but also meet the growing numbers of Chinese visitors in need of Chinese speaking service personal. This constructive amendment was fully affirmed and praised by the minister.
To this end, in consideration of the busy schedule of Mr. Pan Liang, the minister looks forward to Mr. Pan Liang's next visit to the schools subordinated to the minister. Mr. Pan Liang appreciated the understanding of the minister in this regard.